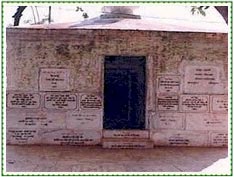 Naras Devi temple is situated on a hilltop at Baroha, 2 km from Naras village that falls under the Bilaspur district of Himachal Pradesh. The temple is more than 400 years old and is believed to have been constructed by King Kalyan Chand, while establishing Sunhani as the capital of his kingdom. He is also said to have appointed a priest to bring 'Charnamrit' for the deity regularly. Naras Devi temple is dedicated to Goddess Durga, also known as Naras Maa. There are a number of legends attached to the temple and its formation.
A popular legend claims that once there was a tree of Summann at the place, where the temple now stands. One day, a sudden flash of light was seen there and the Pindi symbolizing the Goddess appeared. One of the ancestors of a 'pujari' (priest) dreamt that the Goddess was asking him to build a temple at the same place and install the 'Pindi' there. A legend related to Raja Kalyan Chand states that once the king ordered the priest to make the Goddess materialize before him in human form or face the punishment.
The priest prayed all night to the Goddess and Goddess did materialize before the King from the Pindi, but with her back towards the egoistic King, so as not to give him her 'Darshan'. Later, due to her wrath, there was a war between the states of Kehloor and Saket and the Kehloor King died in it. Even today, Chandel Rajpoots avoid visiting Naras Mata Mandir. There is a mention of Naresha Devi in Markanday Puran, who granted 'Darshan' to King Surath due to his great devotion towards her.