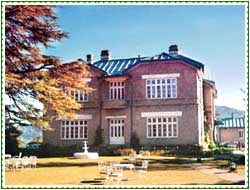 Situated at an altitude of 2250 m, Chail is a very small but delightful hill resort. One of its major attractions is the Chail Palace, constructed by Maharaja Bhupinder Singh of Patiala in 1891, as his residence. The story behind its construction is very interesting and speaks volumes of the medieval egoism of the royalty. Maharaja Bhupinder Singh had a row with British because of his dalliance with a daughter of a high official.
Because of this, he was expelled from Shimla, the Summer Capital of British India. Maharaja's vanity was wounded and he resolved to make a better summer capital for himself than Shimla. Chail was strategically chosen to be the site where this capital was to be made. 45 km from Shimla, the hill station was situated a little higher than Shimla. Thick deodar forests surrounded the place. Just 1.5 km from here, is the famous Sidh Baba ka Mandir, situated at an altitude of 8000 ft above sea level.
Maharaja Bhupinder built this temple also. Chail Palace, also known as Maharaja's Palace, has almost everything that can keep a person happy and entertained forever. Dense lush green forests surround it and interesting trails in them are a delight for nature lovers. Chail Palace comprises of elaborate furnishings, comfy log huts and cottages, expansive lawns, a lovers' hill, facilities for almost all kind of sports and even a children's park. A part of it has now been converted into a heritage hotel.