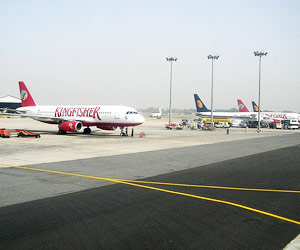 Punjab, the land of five rivers, is a developed state with a well-established airport system. The state is presently gaining more and more importance, owing to its tourism aspect. Accessibility is an important factor that boosts tourism in Punjab further. The organized and well-rooted airports in the state meet up the demands of an effective transport system. These airports facilitate a strong binding of various places within and outside the state. Punjab has both domestic and international airports, catering to the needs of both internal and external travel. These airports are well-furnished, with modern facilities like ATM centers, money exchange outlets, book stalls, juice corners, wheel chair access and disabled care services, dining spots, etc. The main airports of the state have been listed illustrated below.
Major
Airports in Punjab

Amritsar International Airport
This is the only airport in Punjab to operate both domestic and international flights. This airport is popularly known as the Raja Sansi international Airport. It is located hardly 11 km away from the main city centre. A number of domestic flights, like the Indian Airlines, Jet Airways, Air Deccan, Kingfisher, and Spice Jet, come in and go out of this airport. Besides, there are international flights, like Turkmenistan Airlines, Uzbekistan Airlines, and Air India, which connect Punjab with other key destination in the world.
Chandigarh Airport
This is an important domestic airport of the country. Since Chandigarh itself offers a large number of tourist attractions to the visitors, there is a heavy traffic throughout the year at the airport. Almost every important place in India has flights operating to the 'City Beautiful'.
Ludhiana Airport
Another important airport of Punjab, Ludhiana airport provides the platform for both civil and defense flights. It is popularly called the Sahnewal Airport and is easily accessible from the city, as it is located at a distance of hardly 5 km from the city centre. It is serviced by almost all the major domestic airlines in India.
Others
Besides the above important airports, there are some smaller airports in operation in Punjab. There is an Air Cargo Complex at Amritsar and an Inland Container Depot at Ludhiana. Freight stations are established in places like Jalandhar, Bhatinda, Rajpura and Ludhiana. Thus, Punjab offers an organized and developed transportation by air, making the state more reachable and explorable.