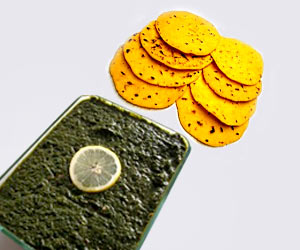 Punjabis are big-time food lovers, preferring a wide variety in their menu. They are full of life and their food too reflects this liveliness. Punjabi food forms an important part of the North Indian cuisine, which appeals to the taste of many. The people in this state generally go for spicy foods and use oil and ghee to a considerably higher extent. There are no intricate marinades or exotic sauces, but an exuberant use of masalas, with a liberal addition of oil or ghee.
The people of Punjab prefer wheat to rice; though they do have rice occasionally. In roti itself, you find such a wide variety that you are left to wonder about Punjabi cuisine's versatility.
Makke ki Roti
(chapati made of corn) and stuffed paranthas have wide popularity. Milk and milk products are also commonly used by the people here. Curd and butter milk are important concomitants of a Punjabi meal.
Lassi
, made out of curd, is a popular drink of Punjab, which satisfactorily quenches the thirst in summers.
One can easily notice a disparity within Punjab, as per the choice of food. For instance, the people in Amritsar go for stuffed
paranthas
and milk products, whereas Malwa inhabitants prefer
bajra khitchdi
more. One thing that runs common throughout the Punjab is the wide use of onion, garlic, ginger and tomatoes, as the common masala for most food items. People also regularly use garam masalas like cardamom, cinnamon, mace and bay leaf in their food preparation. Besides they usually garnish their food with finely-cut coriander leaves and juliennes of ginger.
Popular Delicacies
The food items that form a part of the traditional food of Punjab are so eye-catchy that you can hardly resist your temptation to taste them all. Some of the popular delicacies in the state have been listed below:
Vegetarian Dishes