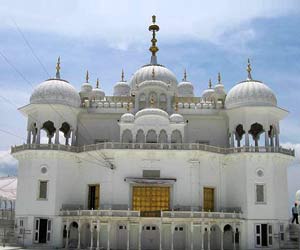 Damdama Sahib is one of the Five Takhts or Seat of Temporal Authority of Sikhism. It has been built at the site where Guru Gobind Singh, the tenth Sikh Guru, prepared the full version of the Sikh Scriptures, called Sri Guru Granth Sahib, in 1705. Located in village of Talwandi Sabo, 28 km to the southeast of Bathinda, the gurdwara was officially recognized as the Fifth Takht of Sikkhism, on November 18, 1966. It was declared as the fifth Sikh Takht by the Government of India in April 1999, during tercentennial celebrations of the formation of the Khalsa. The gurdwara is also known as Talwandi Sabo and Guru Ki Kashi.
History
The legend goes that Guru Gobind Singh retired to the jungle of Malwa, after his fierce battle with the Mughals. He relaxed and took rest at Talwandi Sabo and hence, it came to be known as Damdama Sahib (the term 'damdama' literally meaning the breathing place). The Guru stayed here for nine months and nine days. He made the place a centre for spreading his mission, which was to teach people about Sikhism. In fact, it was here that he re-dictated Adi-Granth and called the place Khalse Da Takhat. The Damdama Wali Bir, as the Guru Granth Sahib is sometimes called, was completed here, being dictated by the Guru to one of his disciples Bhai Mani Singh. With this, the gurdwara came to be known as Guru Ki Kashi as well.
Gurdwara Damdama Sahib is also the headquarters of Nihangs. There are ten gurdwaras within its premises, along with three tanks - Nanksar Sarovar, Akalsar Sarovar and Gurusar Sarovar. Nanaksar Sarovar is said to be associated with Guru Nanak Dev Ji, who is said to have visited Talwandi Sabo village in 1510 A.D., during his second Pad Yatra to Rajputana. The Akalsar Sarovar is associated with Guru Gobind Singh Ji and a sip of its water is believed to be a safeguard against any disease and scourge. The Gurusar Sarovar is said to have been dug up under the orders of Guru Teg Bahadur Ji. Other holy attractions located near the Damdama Sahib are the Jand Sahib, Tibbi Sahib, Wada Darbar Sahib and Gurusar.