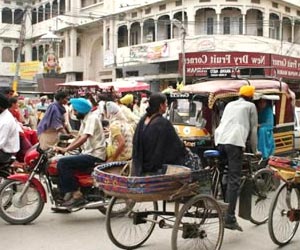 Punjab, with a total area of 50,362 square kilometer, has one of the best infrastructure systems in India, be it in any sphere. It boasts of different modes of transport, like buses, taxis, auto-rickshaws and cycle-rickshaws, which connect various parts of the state. These modes of commutation make it easy for people to travel within the state. It is of great help to the tourists as well, in finding an easy accessibility to various parts of the state. Roadways and railways are the main modes of transportation within the state. There is a broad road network of 60,825 kilometers, which passes through the state. It has a number of both state and national highways. At the same time, there are many intercity trains, for going from one place to the other. Read on to explore more on local transport in Punjab.
Public Transportation in Punjab

Buses
This is the most widely and easily available means of transportation within the state. The Government of Punjab runs a number of public buses in the name of Punjab Roadways and PUNBUS. These buses are economical and fit everyone's pocket. This explains the heavy crowd seen in these buses. Besides the government-run buses, there are several private buses running through the state of Punjab. You can easily avail buses to travel to any of your desired location, within as well between the cities and that too, at a nominal cost.
Trains
Trains are suited only for those who want to travel from one city of Punjab to the other. Intra-city trains are not available in the state.
Taxis
If you want to opt for a comfortable journey and do not mind paying more, taxi is the best option, for both inter and intra city travel. There are a number of taxis widely available on the streets and you can hire them right away. Also, there are many travel agents available throughout Punjab, who can arrange a taxi for you.
Auto Rickshaws
You find uncountable auto-rickshaws rushing through the streets of Punjab. These are comparatively cheaper than taxis and more comfortable than the buses, for intra-city travel. However, it is always advisable to bargain and fix the rates with the auto driver beforehand.
Cycle Rickshaws
This is the cheapest mode of commutation available for intra-city travel in Punjab. Since these rickshaws are driven manually, they are appropriate only for short journeys.