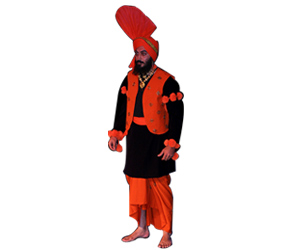 Punjab is the land of lively and dynamic people. This perhaps explains the uncomplicated acceptance of modernization in their dressing style. Though they have very bright and colorful traditional dresses, which form their main attire, they are no way hostile to modern dresses. So if you are planning to visit Punjab, you need not break your head thinking about the dress to be worn. You can clad yourself in traditional Indian dresses or opt for Western dresses. Women can wear salwar-kameez, which incidentally happens to the traditional dress of Punjab, skirts, t-shirts, jeans, trousers, jackets, etc. Men can go for t-shirts, jeans, kurta pyjama and the likes. The only thing to remember is to maintain decency in your get-up. Punjabis are highly religious people and strongly avert anything that has signs of immorality.
On a trip, it is always fascinating to try the traditional dresses of the place. And when the place is a colorful state like Punjab, you can't hold your temptation for long. Punjab is a land of vitality and liveliness, which is finely reflected in its traditional dresses as well. Salwar kameez is the traditional dress worn by the majority of Punjabi women. It consists of three piece of clothes - salwar (pant or bottom piece), kameez (shirt or top piece) and dupatta (a shawl worn around the neck). Salwar kameez is available in a variety of colors and designs. 'Phulkari' and 'bagh' are the traditional shawls embroidered with fanciful designs, which are extremely popular all over the world. Punjabi men generally wear loose pants or slacks with a collared shirt or t-shirt. Kurta pyjama is also widely worn by the people here.
Owing to its location, Punjab experiences the winter as well as the summer season in extreme. Summer starts from the mid of February and lasts till the end of June, whereas winter spans from October to February. You need to select clothes as per the climate at the time of travel. If you are traveling in summer, light cotton clothes will be comforting. Also, loose dresses will be a better choice than the tight fitting ones. You will need sunscreen lotions, caps and hats, as accessories, to make the trip soothing. In winter, carry woolen clothes to keep yourself warm. Winter, though pleasing and enjoyable, is dry. So always carry moisturizing lotions and other cosmetic products to retain the moisture in your skin.