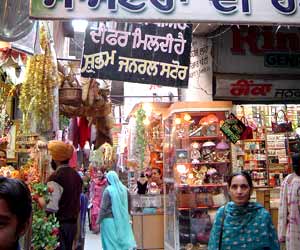 Punjab has a grand collection of handicrafts and handloom products. It enjoys the repute of being one of the largest manufacturers and exporters of handloom products, handicrafts and hosiery goods in India. It is a very well acknowledged fact that shopping is a must during any trip and the state is no exception to it. Punjab offers you innumerable things to take back home. Its traditional items bear the stamp of its rich culture. Almost all the tourist places in Punjab, right from Amritsar to Ludhiana and Chandigarh to Pathankot, offer the scope for shopping.
Shopping Items in Punjab
Punjab is famous for its durries, jutties, woolen shawls, inlaid furniture, phulkari work, parandis, sport goods, leather garments and the jewelry. Almost every where you go in the state, you will find an exquisite display of the traditional items. Given below is a list of the items that you should carry back home, as the remembrance of Punjab.
Durries
Punjabi durries are flat woven rugs, which are either used as bedcovers or as carpets. Generally for large gatherings, whether political, religious or others, durries are spread on the floor, for sitting purposes. These durries are very popular, owing to their stunning traditional designs, woven skillfully with all the minute details. They are quite economical and at the same time, add enormously to the richness of a house's interiors. Though they are widely available in all parts of Punjab, Amritsar and Chandigarh are the main centers for the production of durries.
Jutties
Punjabi jutties is the name given to the typical footwear of Punjab. They are unusual in bearing a grand display of patterns and designs. There is such beautiful embroidery displayed on the jutties that you can't help being impressed. Lots of hard work goes into making of these jutties, as they stand for the elegance and glory of Punjab. A wide range of fancy materials, like beads, pearls, colored threads, small mirrors and seashells, are used for making these jutties. Punjabi jutties are comfortable to wear and also render a royal look to the wearer.
Phulkaris
Phulkari is a form of craft in which artistic embroidery embellishes a shawl, saree, dupatta (head scarf) or the entire dress. The phulkari that covers the entire dress, making the base material invisible, is called bagh (a garden of flowers). Bagh is generally used for special occasions, like marriages and festivals. A special kind of thread is used for phulkari, which is called pat. The designs used are varied, like animal, vegetable, sun, moon, scenes of human life, natural beauty and the list continues. In fact, anything that one can think about, other than religious connotations, are represented in phulkari. Some varieties of Phulkari and Bagh are Chope, Vari-da-bagh, Ghunghat bagh, Bawan Bagh, Darshan Dwar, Suber, Champa, Surjamukhi, & Satrang.
Parandis
Parandis are the attractive hangings that are worn in the hair. They are widely used by the Punjabi women, especially those living in the rural areas. They usually plait their long hair and decorate the same with parandi, worn at the end of the plait. These parandis are woven out of attractive silk threads, clustered together artistically. They are available in a variety of designs and patterns.
Shawls
Punjabi shawls are world famous, for their intricate designs, coziness and reasonable price. There are different varieties of shawls available in Punjab, like angora, jamavar, embroidered pashmina, beaded pashmina, cashmillon shawls, kulu shawls and jacquard shawls. Ludhiana, Jalandhar and Amritsar are the main centers producing these shawls.
Inlaid Furniture
Punjab has an exclusive panorama of inlaid furniture. These are carved with exquisite geometrical, floral, animal and trellis designs, in Mughal style of art. Here, you can get the most unique collection of chairs, round tables, corner tables, beds, small stools locally called Peeras, walnut wood furniture and many others. Amritsar, Hoshiarpur, Jalandhar and Bhera are the principal areas producing inlaid furniture.
Miscellaneous
Besides the above characteristic articles, you can shop for a number of other items in Punjab. Leather garments are available in numerous patterns, which attract a lot of tourists. The dolls of Punjab, especially the bride doll and the bhangra doll, are also extremely popular. Hand fans (Peshawari Pakkhe, Kundaladar Pakkhi), baskets and folk toys are other attractions of the place.