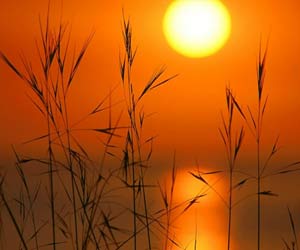 Bathinda lies in the southwestern region of Punjab. The climate of the place is mainly characterized by a very hot summer, a short rainy season and a bracing cold winter. Let us explore some more information on the weather and climate of Bhatinda.
Summer
Summer season starts in March and continues till June. Since Bathinda is close to the Thar Desert of Rajasthan, it experiences extreme summer season. Temperature is extremely high during the season, followed by lots of perspiration. In the month of June, temperature rises to even 47
o
C , at times. Dust storms are a regular feature in the season.
Monsoon
The rainfall in Bathinda is mainly the result of south-west monsoon. The area receives mild rainfall, with humidity going beyond the summer levels. The average rainfall in the area is about 410 mm. By about the middle of September, when the monsoon withdraws, both the day and night temperatures begin to decrease, though not too much.
Winter
Winter season in Bathinda starts from November and extends till February. January is the coldest month, with the mean daily maximum temperature of about 21
o
C and the mean daily minimum of about 4
o
C . Nights are extremely chilly. In this season, the place is affected by cold waves in the rear of passing western disturbances.