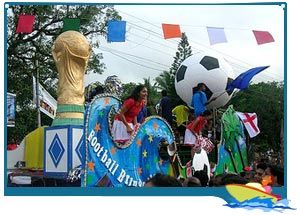 The Goa carnival is synonymous with the state of Goa and is the manifestation of the quintessential fun-loving spirit of Goan's at its sublime best. Largely a legacy of the Portuguese era, the Goa carnival has transcended the confines of its religious roots. Seen in a wider context, the carnival of Goa is one of the several carnivals held in different parts of the world that precede the 40-day abstinence period of Lent.
The Goa carnival is held for three days and preparation for this colorful extravaganza starts at least three months in advance. When the big day comes calling, a riot of colors and merriment engulfs the state with elaborate processions winding through the streets. At the outset 'the king of chaos' or 'King Momo' is chosen and he leads the parade featuring dance troupes and beautiful floats.
The Goa carnival parade is an awesome spectacle encompassing a mind-boggling array of activities. Masked revelers dancing to live band music and ornately decorated floats are the highlights of this fascinating jamboree. The carnival culminates with the famous Red-and-Black dance held by the Clube Nacional in Panaji. Over the years, the Goa carnival has come to embody the very best of the unique Goan culture. On the eve of the carnival tourists from all over the world descend on Goa for a sip of the rich heritage of Goa.
The origins and nature of the carnival can be traced to the wild feasts of ancient Rome and Greece. Here, it is important to note that these carnivals started in the Spanish and Portuguese colonies and gradually became known for their revelry. The word Carnival (Carnaval in Portuguese) is derived from a Latin word, which means 'to take away meat' and is an expression of the 40-day period of fasting of Lent.
In India the carnival is celebrated only in Goa and not in any other part. It was on the decline even in Goa in the last few years of the Portuguese rule. With the liberation of Goa, the carnival also got revival and boosted the tourism of the state. To feel the magic, excitement and fun of the Goa carnival you need be part of the same!