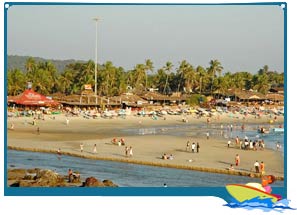 The balmy weather of Goa makes it a tourist paradise with virtually no extremities in temperatures throughout the year. As in most other parts of India, the best time to visit Goa is between October and February when temperatures reside on the cooler side and monsoon rains nowhere in sight.
Thus the peak season for Goa travel encompasses the post monsoon and winter seasons and during this period every tourist spot of repute in Goa spills over with tourists and backpackers from all over the world. The sunny and pleasant weather adds to the charm of Goa's scenic land.
But if you are an avid nature buff and verdant greenery soothes your eyes, then plan your detour during the monsoon season from May to September. As the southwest monsoon lashes the plains, the rivers swell with rainwater and a luxuriant green canopy covers the forests.