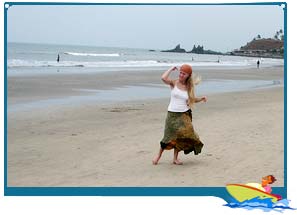 The Goans are a bunch of happy-go-lucky people and their chilled-out attitude is reflected in the clothes they wear. Goa is the perennial party zone and regarding clothes casual wear is the order of the day. As such if one is embarking on a detour to Goa, efforts should be made blend oneself with the Goan life by wearing clothes that embody the carefree Goan spirit.
You don't need to fret over what to wear in Goa since the dressing style draws heavily on high street fashion characterized by bold and bright floral prints. Moreover as Goa is endowed with a balmy weather the need for specific clothing is done away with. The clothes to wear during the summer are cotton apparels while in winters you can put on some light woolens.
Beachwear and other accessories figure prominently in clothes to wear in Goa. Swimsuits and colorful sarongs are the favorite beachwear for the fairer sex. Those planning to bask in the sun should carry along sunscreen lotions and sunglasses. One can also opt for tees, shorts and jeans while loitering in the scenic beaches of Goa.