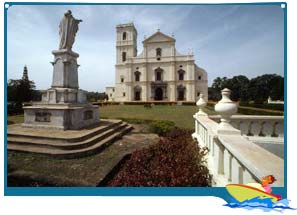 Located 9 km to east of Panaji, Old Goa was the erstwhile capital of the Portuguese dominions in Goa. Before the arrival of the Portuguese on the Goan shores, Old Goa was the regal capital of Sultan Adil Shah of Bijapur. After defeating the armies of the Sultan, the Portuguese led by Alfonso de Albuquerque started building their empire around Old Goa.
As the epicenter of Portuguese territory, Old Goa witnessed the profusion of magnificent churches and majestic buildings befitting the stature of the city. During its halcyon days, Old Goa became famous as the "Lisbon of the East." But soon recurring outbreaks of epidemics like cholera and malaria made the city highly inhospitable and the Portuguese moved their capital to Panaji in 1843.
With the patrons taking shelter elsewhere, Old Goa lost its pre-eminence and the awe-inspiring structures of the city were gradually reduced to ruins. Accorded the World heritage Site status by UNESCO, the opulent buildings and churches of Old Goa today reminds one of the grandeur of a bygone era.