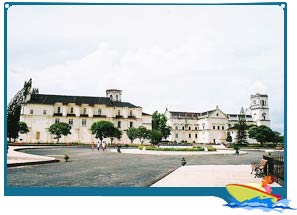 The Archaeological Museum of Goa was set up in 1964 under the auspices of the Archaeological Survey of India (ASI). The Convent of St. Francis of Assisi, which was lying in a state of dereliction since it was closed by the Portuguese government in 1835, was chosen as the museum venue. The museum underwent an extensive renovation regime in 1981-82.
The 8 galleries of the Archaeological Museum in Old Goa display portraits and sculptures from the prehistoric to the late mediaeval period. Apart from these relics, the museum houses a plethora of artifacts belonging to the Portuguese period in Goa. The statue of Portuguese visionary Alfonse Albuquerque and portraits of the governors resplendent in their official insignia are major attractions of the Archeological Museum.
Among the priceless collection of paintings in the museum, the portrait of Vasco da Gama, the Portuguese explorer who reached India in 1498, is noteworthy. Besides there are antiques from Hindu period, sculpture of Hindu deities, and many sati and hero stones. The Archaeological Museum also boasts of an impressive collection of Portuguese arms like rifle, swords and daggers, etc.
How to Reach the Old Goa Archaeological Museum
The archaeological museum can be reached by the local transport (buses, taxis) available in the Old Goa town.