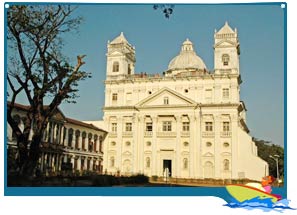 Built along the lines of the Basilica of St. Peter's in Rome, the Church of St. Cajetan is one of the visually appealing structures in Old Goa. The St Cajetan church was built by Italian friars of the order of Theatines, who were sent by Pope Urban VIII to preach Christianity. Although the church is dedicated to Our Lady of Divine Providence, it has been name after St. Cajetan, the founder of the Order of Theatines. The construction of the Church achieved completion in 1661.
The architecture of St. Cajetan church is pretty much similar to that of the other prominent churches of Goa. The exterior has been inspired by the Corinthian style while the interior is a blend of mosaic-Corinthian architectures. The magnificent façade facing west features towering Corinthian columns supporting a central pediment above which the twin belfry towers arise.
The Church of St. Cajetan is the only surviving domed church in Goa. The body of the church is divided into a nave and two aisles. There are three altars on each side of the main altar. The three altars on the left side are dedicated to the Holy Family, Our Lady of Piety and St. Clare, while the altars to the left are dedicated to St. John, St. Cajetan and St. Agnes.