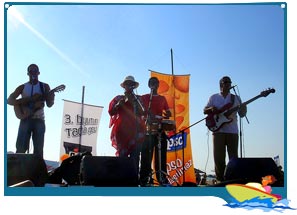 Music occupies the pride of place in the cultural milieu of Goa. Goans are born musicians and music runs deep in their veins. Apart from being a vast repository of folk music forms, Goa is also the cradle of a number of Western music forms. True to the rich heritage, Goa has produced some of the finest musicians of India. Lata Mangeshkar, the prima donna of Indian music, and her sister Asha Bhosle hail from Goa.
Manddo
Manddo is the most ubiquitous form of folk music in Goa. Essentially a love song, Manddo is regarded a synthesis of Indian and western musical forms. Manddo evolved as a traditional musical form in the 1840s and is basically performed by the Catholic Christians in Goa. Dhulpad, the concludiong part of Manddo, is a derivative of Goan folk music and predates the main Manddo performance. An assortment of musical instruments such as the ghumat (traditional Goan percussion instrument), the violin and the guitar accompanies a Manddo performance.
Ovi Songs
Ovi songs are a form of wedding music predominantly seen among the Hindu community in Goa. Womenfolk sing Ovi songs while applying the coconut-pulp milk to the bride and groom and while preparing condiments for dinners etc. When the Christian missionaries descended on Goa to reach Christianity, they imbibed biblical themes in the Ovi songs to win over the locals. People would often congregate around a fire or a cross and reverently sing Ovi songs composed by the missionaries in Konkani.
Goa Popular Music
Apart from the traditional music forms, Goa also has a vibrant popular music culture. Goa is widely regarded the birthplace of Goa trance music which was developed by the hippies way back in 1960s. Pop music also enjoys a firm footing in Goa and pop singer Remo Fernandez is one of the most famous musicians in Goa.