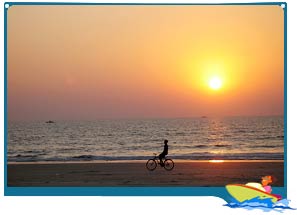 Goa is blessed with a tropical weather that is embracing for the visiting tourists. The Goa weather is characterized by moderate temperatures without any major fluctuations throughout the year.
Summer
The summer season in Goa lasts from March to May. During this period the weather in Goa becomes moderately hot with temperatures hovering in the mid-thirties. May is usually the warmest month in Goa. For a summer trip to Goa, one should bring cotton apparels and be prepared for a rise in humidity levels towards to the fag end of the summer season.
Monsoon
The month of June heralds the advent of the southwest monsoon in Goa. During the monsoon season, which lasts till September, rains and thundershowers pelt the Goan plains. The humidity levels are at their highest during the monsoon months. Generally regarded off season for tourists, one can still visit Goa for a glimpse of the verdant greenery that engulfs the state.
Winter
The winter months usher in a pleasant weather in Goa. The winter season lasts from December to February and this is the peak tourist season in Goa. Temperatures hover in the lower twenties and the bright sunny weather makes for a perfect outing in the Goa beaches.