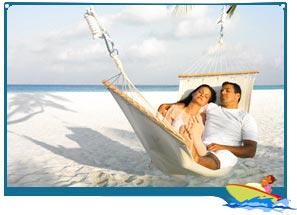 A land that abounds with scenic beauty all around, Goa has been a perennial favorite with honeymooners from India and abroad. A honeymoon trip is always fraught with romantic overtones and the serene landscape of Goa provides the perfect backdrop for a great start to the newly wed couples. No wonder, honeymooning couples always make a beeline for a great honeymoon in Goa.
The picturesque beaches of Goa are usually the preferred destinations for the newly-weds. All lovey-dovey and very much in love, the couples seek to strengthen their bonding amidst the confluence of sun, sand and the sea. The ones yearning to spend some quality time together far away from the maddening crowd can head for the secluded beaches of south Goa.
The cruises in Goa are another attraction for honeymoon couples. Imagine enjoying a sunset river cruise aboard the luxury launch Santa Monica while cultural troupes entertain you with Goan music and dance. Or else roam around the Goa hinterland and marvel at the ancient monuments. If you want your honeymoon to be amid the bounties of nature then head for the wildlife resorts and snuggle up to the warmth of nature.
If both of you love to party around, Goa will serve as the perfect destination for you. The trance parties of the state are known throughout the world. You can celebrate the newly found companionship by dancing till the wee hours of the night. The music is awesome and the picturesque beaches serve as the perfect venue for the parties. In short, Goa is the ultimate tourist destination, whether you want to spend some quiet moments together or want to have fun as a couple. Wait no more. Just get your tickets booked and fly away to one of the most romantic places in India!