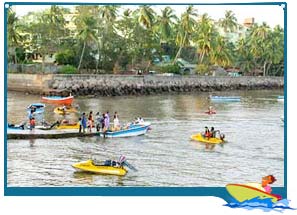 Located in the North Goa district, Bicholim is the headquarters of the Bicholim taluka. A major educational and commercial center in North Goa, Bicholim has yet to grab a substantial slice of the Goan tourism pie. Even though bereft of scenic beaches that are the pride of Goa, nature has bestowed Bicholim with an idyllic landscape dotted with serene lakes and majestic waterfalls.
The tranquil Mayem lake is a major tourism destination in Bicholim. Located amidst rolling hills and surrounded by a peaceful countryside, the lake beckons tourists with its picture-postcard settings. The Arvalem caves are ancient rock cut caves dating back to the 5th century. Also known as 'Pandavas Caves,' the cave complex draws tourists and archeologists alike.
The Saptokoteshwar temple in Narve village is a sacred Shiva temple. The temple is dedicated to Saptokoteshwar, an incarnation of Lord Shiva. The Arvalem waterfall near the Arvalem caves is another attraction of the Bicholim tourism scenario.