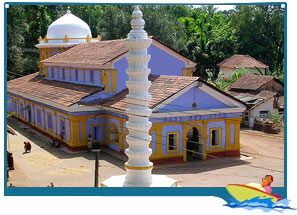 Acclaimed as one of the six revered temples of Lord Shiva in the Konkan area, the Saptokoteshwar temple has a chequered history dating back to the 12th century. During that period Saptakoteshwar was the patron deity of the kings of Kadamba dynasty. In 1352, when Bahamani Sultan Hassan Gangu usurped the Kadamba kingdom, his armies vandalized the linga of the Saptakoteshwar temple.
In 1367, Vijayanagar King Hariharraya conquered Hassan Gangu's troops and restored the lost glory of Saptakoteshwar temple. After a calm of about two hundred years, the temple idol (linga) had to be removed once again to escape the marauding armies of the Portuguese conquerors. The temple was finally rebuilt at Narve by the orders of great Maratha king Shivaji.
The presiding deity of the temple is Saptakoteshwar, an incarnation of Lord Shiva. Legend has it that Shiva appeared at this place to grant the wishes of seven holy sages who prayed for seven crore years. This incarnation of the Lord is known as Saptakoteshwar (sapt means seven and koteshwar means lord of crores). The Gokulashtami festival of the temple draws thousands of devotees from Goa and other parts of India.
How to Reach Saptakoteshwar Temple
The village of Narve is located about 35 km from Panaji and can be reached by taking a ferryboat from the island of Divar.