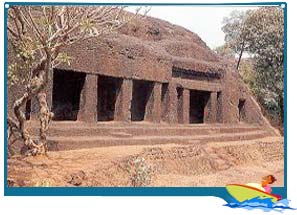 The rock cut Arvalem caves are one of the ancient monuments in Goa. Steeped in mythological tales, these are also known as the 'Pandavas Caves.' Legend has it that the Pandavas, heroes of the epic Mahabharata, sought refuge in the Arvalem caves during their exile. Archeologists have traced the origins of these caves to the 5th or 6th century A.D.
Opinions are ambivalent regarding the architecture of the Arvalem caves. Popular belief that the that the Arvalem cave complex has been carved by the traveling Buddhist monks holds credence since these caves are built along the lines of Buddhist caves, rock cut into laterite stone, with the sanctuary at the northern end and the vihara at the southern end.
There are five compartments in the cave complex and the middle compartment enshrines the 'linga' held in great reverence by devotees. The shafts of the four carved lingas inside the cave resemble to those found at the famous Elephanta and Ellora caves. The Shivalinga in the second cave is engraved with an inscription written in Sanskrit and Brahmi characters of the 7th century.
How to Reach Arvalem Caves
Arvalem caves are located 9 km south of Bicholim Town. One can hire motorcycle taxis from Bicholim to reach the caves.