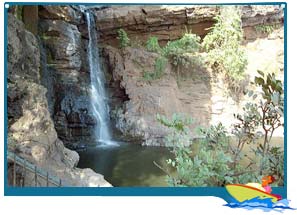 Set amidst an enchanting landscape, the Arvalem waterfalls is a popular tourist hub in Goa. The Arvalem falls produces a breathtaking spectacle with water tumbling headlong from a height of 50 meter. Even though not on par with the more celebrated Dudhsagar waterfalls, the Arvalem waterfalls are definitely worth a visit.
During the monsoon season, as the plains are lashed by incessant rains, the Arvalem waterfall runs amok with thunderous energy. The otherwise lean stream of the winters metamorphoses into a powerful gush of water cascading down the mountain slopes. After descending down the rocky cliff, the Arvalem waterfall settles in a huge lake at the bottom which is a tempting place for visitors for a refreshing dip.
The GTDC has developed a park nearby to facilitate a ringside view of the Arvalem falls. The Rudreshwar temple located in the vicinity of the falls is a holy shrine for Hindus. The Rock cut caves of Arvalem are another nearby attraction for enthusiastic tourists.
How to Reach Arvalem Waterfalls
You can reach the Sanquelim village by taking a two hour bus ride from Mapusa. But to reach the Arvalem waterfalls, you will have to walk for about half an hour or take a motorbike taxi.