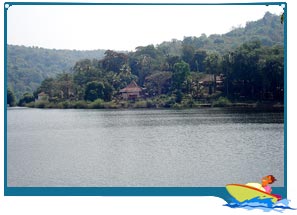 Nestled amidst verdant hills and a sleepy countryside, the Mayem lake exudes a charming freshness which is in sharp contrast to the bustling environ of Goan beaches. The most famous lake in Goa, this placid spread of water is a major tourist attraction and a must-have on most of the tourist itineraries.
As with most of the water bodies, the Mayem lake is home to a substantial avian population. Most of the common aquatic bird species can be found on the shores of the lake. The tranquil waters of the Mayem lake lend themselves ideally for boating. One can enjoy a ride on the small pedal operated boats for a panoramic view of the serene landscape around.
To leverage the tourism potential of the lake, GTDC has emphasized on building the necessary infrastructure for tourist. A park located on the banks of the Mayem lake boasts of an excellent cafeteria and several other stalls, the most popular of which are the soft drink ones. One can also venture into the Kumbharwado locality of the Mayem village where artisans carve Ganesh idols out of terracotta for the Ganesh Chaturthi festival.
How to Reach Mayem Lake
There are a number of buses that run from Mapusa and Panaji to Bicholim and from there to Mayem Lake. The nearest interstate bus station is at Mapusa, the KTC bus station.