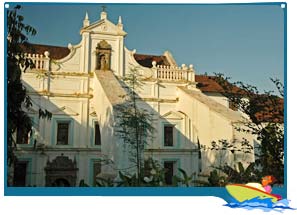 Located adjacent to the Chapel of St. Anthony on the Holy Hill or Monte Santo, the Church and the Convent of St. Monica was Goa's only convent for nuns. Construction of this massive nunnery started in 1606 and reached completion in 1627. The Church and the Convent of St Monica is acclaimed as the first nunnery of the East.
Also known as the Royal Monastery of Santa Monica, the convent was the abode of around 150 cloistered nuns, called the daughters of St. Monica. Inside the penance rooms of the convent, the 'penitents', voluntarily or through persuasion, tormented themselves with ropes, leather straps and iron nails. After it ceased to be a nunnery since 1885, the Convent of St. Monica was granted the status of a church in 1968.
The external architecture of the St. Monica church is an amalgamation of the Tuscan, Corinthian and composite styles, while its interior blends the Doric and composite styles. The façade of the church features the statue of Santa Monica and the symbol of the Holy Ghost. The main altar contains the image of Santa Monica, mother of St. Augustine, to whom the convent and the church is dedicated.
How to Reach the Church of St. Monica
Various modes of local transport in Old Goa are available to reach the Church of St. Monica. One can make the Panaji city as a base, which is 9 km from Old Goa.