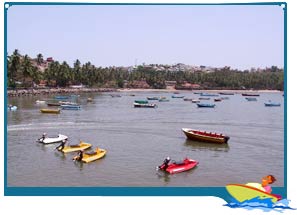 The exciting Old Goa excursions tour will include the following attractions:
Bondla Wildlife Sanctuary
Spread over an area of 8 sq. km., the Bondla Wildlife Sanctuary is the smallest among the wildlife reserves in Goa. Due to its relatively small area, the Bondla Wildlife Sanctuary is known more as a wildlife resort than a sanctuary. Within its confines, the Bondla sanctuary houses a botanical garden, a rose garden, deer safari park and a zoo.
Calangute Beach
Calangute is the numero uno beach in Goa. Stretching over an expanse of seven kilometers, Calangute beach is known by the sobriquet the 'Queen of Beaches' for its pre-eminence among the scenic beaches that dot the Goan landscape. Due to its extreme popularity, Calangute beach beckons tourists and backpackers from all over the world.
Dona Paula Beach
One of the most well-known among Goa beaches, the Dona Paula beach attracts tourists with its scenic landscape dotted with palm trees and casuarinas groves. The Dona Paula beach is a haven for adventure sports buffs for the water sports facilities available here. You can indulge in water sports such as water-scooter, motorboat rides, windsurfing, parasailing, and water-skiing.