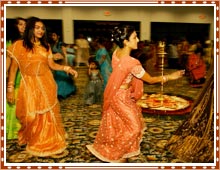 Garba Raas is a popular folk dance of Gujarat. The dance is said to have an ancient origin. Like the credit for popularizing Ras Leela goes to Lord Krishna, the credit for promoting Garba goes to Usha, the grand daughter-in-law of Shri Krishna. It was earlier known as Lasya Nritya. Ras Garba is a typical dance performed by women in the honor of Ma Jagdambe, the Mother Goddess. It is also performed on festive and religious occasions, like Navratri, Sharad Purnima, Vasant Panchami, Holi, etc. Garba dance is also practiced in other parts of India inhabited by Gujarati community.
Garba derives its name from the word 'Garbhadip', meaning 'a lamp inside an earthen pot'. While performing the dance, pots are carried by women on their heads. They move in circular direction, clapping and singing devotional songs in the praise of the Goddess. At times, the pot is filled with water, with a betel nut and silver coin in it, and is covered with coconut on top. In some other parts of Gujarat, women dance around a perforated earthen pot called Garbo, containing a lamp. For Garba, women usually wear sarees in Gujarati style.
The dance performance begins at night. Generally, Garba Raas is performed at open spaces near houses. An idol or photo of Mother Goddess is placed in the center and women form a circle around it. Oil and Ghee lamps are lit around the idol of the Goddess. The dance is led by a drummer, who usually sits in the center and plays a dhol. Women follow the rhythm and dance on the beats of the dhol. Garba Ras starts with a slow speed and gradually picks up tempo. When in Gujarat, make sure to be a witness to this amazing dance.