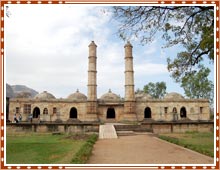 Champaner is an ancient fortified city of Gujarat. It is located at the foothills of Pavagadh, around 159 km from Ahmedabad. The city falls under the Panchmahal district of Gujarat. It is believed that the city derived its name either from the Champa tree or from Champaraj. Champaraj was the founder of the city and a contemporary of King Vanraj Chavda of Anhilwada. Tourism is slowly picking here and people are drawn towards exploring the historical town of the yore. In the late 15th century, Muhammad Begada, the Muslim King of Gujarat captured the fort of Champaner.
In 1484 AD, he decided to build the new capital of Gujarat here. It took 23 years to complete the construction of the massive project. Muhammad Begada finally named the town as Muhammadabad. It soon gained amazing popularity and was established as one of the glorious towns of western India. It became a major trade center dealing in fine silk, woven and dyed textile and sword manufacturing. After the death of Sultan Bahadurshah, the capital was shifted back to Ahmedabad.
Consequently, the town is dotted by the ruins of fort walls, tombs, gardens, arches, pillars and wells. There are a number of monuments in Champaner that are worth visiting. The royal palace of Muhammad Begada is one such building. Vada Talav is a huge lake situated near the citadel, which is a good place to relax. Amir Manzil is an excavated site containing a residential area, gardens, houses, water channels and three gates. The gates are Halol gate, Delhi gate and Godhra gate.
The major mosques found here are Shehar Ki Masjid, Jami Masjid, Kewada Masjid and Nagina Masjid. Jami Masjid, an architectural marvel of its times, is an imposing structure with high plinth, tall minarets and minutely carved gates and windows. Other worth watching buildings here are the ruins of Khapra Zaveri Palace, Atak gate, Makai Kothar, Kalikat Temple, Lakulish Temple. Kalikat Temple is a venerated Hindu pilgrimage for the devotees of Goddess Kali. Millions of people visit the temple every year.
How to Reach Champaner
By Air:
To reach Champaner you can fly up to Vadodara.
By Rail:
Champaner railway station lies on Vadodara - Godhara railway line.
By Road:
State buses are available from Ahmedabad and Vadodra.