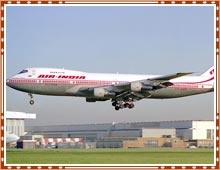 Gujarat is a traveler's paradise because of its historical, religious and wildlife heritage. It is visited by a large number of tourists every year. For the convenience of the visitors, the state has developed strong transportation links. It is well connected to all the major cities in India via road and rail network. All the metropolitan cities, Delhi, Mumbai, Kolkata, Udaipur etc are connected to Gujarat through trains. It has a strong road link also, as there are many inter state buses that operate from here. The state is also a popular destination abroad. People from across the globe visit Gujarat to explore the rich culture and heritage.
By Air
The tourists who are traveling to Gujarat from other countries can take international flights to Ahmedabad. There are 10 domestic airports in Gujarat, with the sole international airport being situated at Ahmedabad. There are frequent international flights to countries in Middle East, Europe and America and daily flights to Mumbai, Delhi and other major cities of India. The international airlines operating out of Ahmedabad airport include Indian Airlines, Jet Airways, Air Sahara, Air India, Malaysia Airlines and Singapore Airlines. The domestic ones include Simplifly Deccan, Kingfisher Airlines, SpiceJet and GoAir.
By Rail
Gujarat has a strong rail network. There are regular trains from and to Mumbai and New Delhi. The major cities of the state, like Ahmedabad, Vadodara and Surat, are connected to all the major cities via trains. With broad gauge lines, the network within the state is also effective.
By Road
Gujarat has excellent road links, better than any other state in India. The state has a total road length of 73,397km. 1,572 km of the total stretch is the share of National Highway, which is a significant reason for making the state so accessible. Gujarat State Transport Corporation and other private operators, operate regular bus services to all the major cities in the state and outside. There are interstate buses and private luxury coaches, which connect various cities of Gujarat with cities in Maharashtra, Madhya Pradesh, Delhi and Rajasthan.