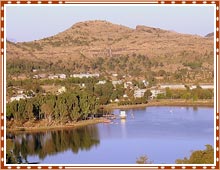 Saputara is a picturesque hill station situated in the Sahyadri Hills, which come under the Dangs District of Gujarat. The hill station serves as an added treat for the tourists who travel to the state. It is a perfect retreat from the hustling bustling city life and is popular from tourism point of view. The pleasant town offers utmost peace and tranquility. Amidst the lush green woods, one can rejuvenate and admire the chronicles of Mother Nature. The sightseeing tours of Saputara reveal much of its beauty.
The climate here is pleasant and embracing round the year, making it a much preferred hangout of the urban crowd. There is a lot to be explored here, like the dense woods, waterfalls, streams, lakes, etc. Saputara can be reached via private vehicles, taxis and state transport buses. The hill station also houses the longest ropeway in India, which stretches over a whole km. It is a hot spot amongst the tourists which flock around the place, especially during evenings. You can also find a Gujarat tourism office for assistance.
Tourist Attractions
Boating
Tourists can enjoy boating in the Saputara Lake. The lake is located in the heart of the town and both row and paddleboats are available here for hire.
Valley View Point
Valley View Point is an ideal spot for the adventure seekers, providing a trek climb of about 15 km. The picturesque bird's eye view of the valley from this point is awe inspiring.
Sunset Point
To see the beauty of the nature at its best, you should visit the sunset point. It provides a panoramic view of the entire valley. There is a ropeway available to reach the point. The serene sunset views from the place will definitely leave you spellbound.
Artist Village
Artist Village is an interesting place to be. One can view the traditional art pieces and craftsmen at work here. You can pick some fine pieces of pottery, jewelry, vases, paintings, pen stands, key chains, made from bamboo chips and other locally found material. There is even a workshop organized here, where children can learn simple items from the craftsmen themselves.
Museum
For the inquisitive ones, there is a small museum in Saputara. It displays the lifestyle, ornaments and musical instruments of the tribes of Dangs. The museum is the perfect place to view the tribal culture from close.
Gardens
There are a number of gardens in Saputara, providing an opportunity to relax to the visitors. The Lake Garden, Step Garden and the Rose Garden, offering scenic view of the hill station, are perfect place for a picnic.