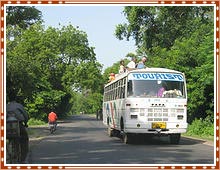 Surat is connected to all the major parts of India, through various means of transport - road, rail and plane. There is a good network of roads for getting to Surat from within Gujarat as well as from the different states in the country. Apart from this, you can reach the city via a number of trains. If you are still wondering how to reach Surat, another option in front of you is traveling by air. Though there are only a few flights available from here, still you can enjoy a comfortable journey. Read on to know more about reaching Surat.
By Air
Surat Airport is situated on the outskirts of the city. The airport has been inaugurated recently and has made the city all the more accessible for the tourists. Presently, there are two airlines operating from the Airport, the Indian Airlines and the Kingfisher Airlines. Surat is well connected to main cities like Delhi, Mumbai, Jaipur, Bhavnagar and Kandla by air. The airport will soon become equipped to handle international cargo and traffic also.
By Train
Surat Railway station is situated in the eastern-central part of the city. The city is a major Railway junction on the Mumbai - Delhi - Ahmedabad broad gauge line. A number of trains run to and from the station, connecting it with many important cities in Gujarat and India. It is linked to all the major cities like Delhi, Mumbai, Ahmedabad, Vadodra etc. Surat is also connected to the Central Railways through the Udhana Junction and the Tapti line. From local trains to goods trains, from passenger trains to super fast trains, all operate from the Surat Railway station.
By Road
There are a number of buses operating from Surat. Theses buses connect the city to various important states like Maharashtra, Madhya Pradesh, Delhi and Rajasthan. Apart from this, there are state buses as well as private buses connecting Surat to various cities in Gujarat. The city is connected to the National Highway via a connector highway. It is also accessible from National Highway 6, via Hazira.