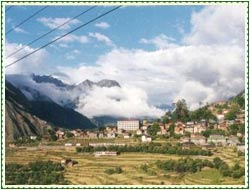 Surrounded by high lush green mountains, this quaint little town known as Bharmour was the original capital of princely state of Chamba. This place still regales in its glorious history with its treasure of ancient temples and monuments. Tucked away amidst lush green surroundings, your travel to Bharmaur will be no less than a magical trip.
It is now getting the recognition it deserves due to increased tourism in Himachal Pradesh. Bharmour is best known for its serene surroundings and amazingly tranquil environs. Those interested in exploring this place can go to ancient temples and forests located here. One can also enjoy trekking here on the gentle slopes of the mountain ranges that surround Bharmaur city of India.
Bharmaur Tourist Attractions
Chaurasia
The famous Chaurasi temples were named after the 84 shrines built in it. It is said that 84 Siddhas passing through the area to Manimahesh chose this place to settle down and meditate. The tallest and most prominent temple of the complex is the Manimahesh temple built in Shikhara style, dedicated to Lord Shiva. There is a life-size brass statue of Nandi, the sacred bull (the vehicle of Lord Shiva), erect outside the temple.
Kugti
The famous Kugti Pass standing at an altitude of 5040 meters is a challenging trail from Bharmaur to Keylong. A solitary rest house offers a spectacular view of the coniferous forests and one can also visit the famous temple of Keylong Wazir, just 2 kilometers from here.