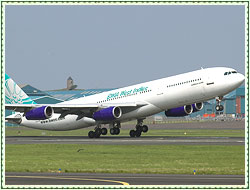 Known as 'Little Lhasa' of India, for it serves as the residence of the Dalai Lama, Dharamsala attracts thousands of tourists every year. The place is located in sub-Himalayan range of mountains and boasts of a very pleasing atmosphere, lush green meadows and verdant valleys. The versatility in flora and fauna of the place attracts tourists absolutely. Reasonable cost of accommodation and excellent modes of transport communication also make this place accessible. The question of 'how to reach Dharamsala' has been discussed in detail below.
Traveling to Dharamsala
By Air
Kangra airport (a.k.a. Gaggal Airport) is the nearest airstrip from Dharamsala, situated at the distance of 21 km. Jagson Airline has flights every Monday, Wednesday, and Friday, from Delhi to Kangra airport. Once you arrive in Kangra, make use of the buses and taxis, available easily, for traveling to Dharamsala.
By Rail
Pathankot is nearest major railhead from Dharamsala, situated at the distance of 76 km. There are many trains running from Pathankot station (a.k.a. Chakki Bank Station) to different cities of India. For instance, it is connected to Delhi by the Jammu Express and to Kolkata by the Jammu Tawi Express. From Pathankot, you can take the narrow gauge railway line train to Kangra, for further expansion of experience, and either take a bus or hire a cab from there, for reaching Dharamsala. Though time consuming, such a journey would surely leave you mesmerized.
By Road
Dharamsala has an excellent network of roads that links with almost all the major cities of the country. The place is situated at a distance of 516 km from Delhi, 268 Km from Chandigarh, 195 km from Amritsar and 283 km from Shimla. Once you arrive at any of these places, you can opt for buses as well as taxis for reaching Dharamsala. In case you plan to drive down to the place from Delhi, take NH1 and NH21 for reaching Kiratpur and from there drive to Una and then to Kangra. From there, McLeodganj is 31 km. From Chandigarh, you will have to take NH21 to Kiratpur. From Shimla, drive to Bilaspur and then to Mandi. From there, take NH20 to Dharamsala.