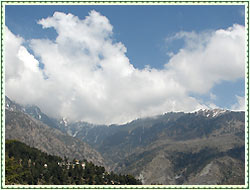 Dharamsala, located in the state of Himachal Pradesh, is an ideal hill station for tourists. The place is full of pine and Deodar trees and stands aurrounded amidst picturesque locales. The natural beauty of the sub-Himalayan range of mountains, encircling it, is simply amazing. Snowy peaks and beautiful Kangra valley give the best overview from here. The place is residence of his holiness the Dalai Lama and thousands of his followers. In the following lines, we will provide you information on the weather and climate of Dhamashala.
Summer
Being located in sub-Himalayan range of mountains, Dharamsala experiences pleasing weather conditions in summer also. The summer season here starts from the month of March and lasts till June. This season is ideal for touring Dharamsala, since the weather is neither too hot noir too cold. Light cotton clothes are suitable during this season.
Monsoon
The monsoon season in Dharamsala lasts from end-June till September. During this time, the entire valley gets drenched in the pure drops of rain and attains a green hue. This is the perfect time for couple to come here, as the weather becomes truly romantic. However, make sure to carry things like umbrellas and forget about trekking.
Winter
Winters in Dharamsala are cold and chilly. The temperature here goes down to freezing point during the months of December and January. Heavy snowfall is common during this weather condition. However, winters do not stop adventurous tourists who come here for skiing on ice. Heavy woolen clothes are required to save body during this weather condition.