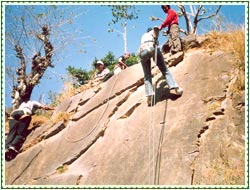 Dharmasala is the perfect destination for those who are looking either for a very quiet holiday or (in the contrast) for a trip full of adventure activites. On one hand, the picturesque town is away from the hullabaloo and stress of city life and offers some moments of peace and respite, amidst the lap of nature. On the other hand, it offers many opportunities for the tourists, to indulge in their favorite adventure sports. In case you want to know more about what to do and see in Dharamshala, read on.
Fun Activities to Do in Dharamsala
Trekking
Dharamsala proves to be a popular base for trekking in Himachal Pradesh. The trekking season starts from May and lasts till October. Amongst the tailor-made treks that you will find in the area, majority are in the Kangra valley. For instance, there is one from Dharamsala to the Chamba valley, over the Indradhar Pass (4,350m), which is very difficult. Apart from that, you can find easier treks around Mcleodganj and Dharamsala. One such trek is from Tang Narwana (1,150m) to Toral Pass (4,575m). You can also take a 2-km stroll to Bhagsu, go another 3 km to Dharamkot and from there; walk down 8 km to Triund.
Rock Climbing
Though many people are not aware of it, the quaint town of Dharamshala offers many opportunities for rock climbing sport as well. One of the most popular trails for rock climbing is Dharamsala-Nayagroeon, set in a remote and largely uncharted area of the Himalayas. Then, you can also go over the ridges of the Dhauladhar range as well.
Angling & Fishing
There are a number of small rivers and streams in the area around Dharamsala. Majority of them provide visitors with an opportunity to indulge in angling and fishing. Among the most popular stretches for fishing is the 20-km stretch of the river Beas, between Nadaun and the Pong Dam. Here, you will find the Mahaseer in ample quantity.
Pilgrimage
For those who are on a pilgrim tour, Dharamsala provides a number of options to connect with the Almighty. It is home to the Namgyal Monastery, founded by Sonam Gyatso, the third Dalai Lama, in the year 1575. Then, there is St Johnís Church, which is located hardly 8-km from Dharamsala, on the way to McLeodganj. Kalachakra Temple, houses in the same complex as the Namgyal Monastery, is also worth a visit.
Heritage Tour
For those who are interested in exploring the rich heritage of a city more than anything else with find Dharamsala to be a great destination. It is home to Kangra Art Museum, situated in Kotwali Bazaar, where you can find relics and artifacts dating back to as far back as 5th century. Then, there is the Library of Tibetan Works and Archives, which has been founded by the 14th Dalai Lama in McLeodganj. The two forts near Dharamsala - Kangra Fort and Nurpur Fort, are also worth visiting. Do make sure to visit the Norbulingka Institute as well, which has been set up to preserve and teach Tibetan art and culture.