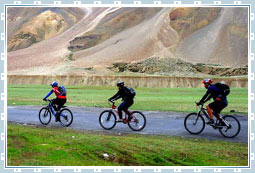 Adventure tourism in Ladakh has gained much popularity in the recent times. Some of the most popular sports that form a part of the adventure tourism in Leh Ladakh are:
Trekking
Ladakh is quite famous and popular for the numerous trekking options it offers. Trekking possibilities in Ladakh include short, daylong walks to the mountain slopes, isolated villages, simple settlements, or across a ridge. You can also take long trans-mountain treks, spanning weeks. While trekking, you may come across some rare animal species like gazelles, ibex, ammon, shapo etc.
River Rafting
Indus and Zanskar Rivers are the main venues for river rafting in Ladakh. The main season for Rafting expeditions is from July to September. For the professionals, the best stretch is on the Indus River, between Spituk and Saspol. For basic training, you should undertake the stretch upward of Spituk up to Karu.
Mountain Climbing
The mountain climbing season in Ladakh extends from mid-May to mid-October. However, the best time for mountain climbing is from June to September, when Ladakh remains unaffected by the monsoon. Permission from the Indian Mountaineering Federation in Delhi is required before ascending a peak in Ladakh.
Cycling
Cycling is also one of the popular adventure sports in Ladakh, India. A visit to the spectacular Buddhist Gompas, through the fascinating local villages, with the Himalayas forming the background, is enjoyed best with a cycle. However, one needs to be a technically perfect biker to cycle on the zigzag roads in Ladakh. The best time for cycling is from mid June to end of September. Some famous cycling routes in Ladakh are the 64 km Leh-Alchi Road, 45 km Leh-Hemis road, Jispa-Gondla, Marhi-Manali, etc.
Camel Safaris
Camel safaris in Ladakh have the specialty of Bactrian camels, having 2 humps. These safaris are one of its kind in India and are organized across the sand dunes around Hunder in Ladakh.
Polo
Polo is a very popular sport in Ladakh. It is usually played in summers at the Leh polo ground on every Tuesday and Saturday. The Ladakh Festival, held in the first half of September, includes a number of Polo tournaments.
Archery
Archery is a traditional sport of Ladakh. Villages and the National Archery stadium in Leh regularly serve as venues for Archery contests in Ladakh.