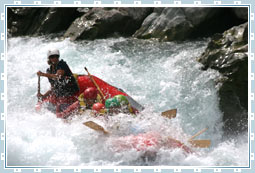 River rafting in Ladakh takes you through its picturesque landscape, consisting of deep canyons, soaring snow-covered peaks, hilltop monasteries, hillside villages, and unique wildlife. The best time for river rafting tourism in Ladakh is from June to October. Amongst the numerous options for white water rafting in Leh Ladakh, the main ones are:
Indus River
Indus River as well as its major tributaries in Ladakh offer a wide range of river rafting options. One of the best stretches on the Indus River is the one between Spituk and Nimu or Saspol. However, those new to river rafting must go for the easiest stretch upstream from Spituk up to Karu.
Zanskar River
Zanskar River in Ladakh has on offer some of the most difficult, but exciting, rafting options. One of these stretches is the one between Padum and Nimu, through a gorge in the Zanskar Mountains. However, this trek will take upto a week.