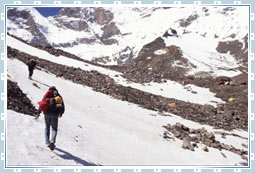 Trekking options in Ladakh are generally of two types, one consisting of short, daylong walks and the other, long treks lasting from a few days to a few weeks. The short ones are generally undertaken to see various monuments, monastic settlements, etc or across a ridge to enjoy the picturesque locales. While, the long ones are generally trans-mountain treks. Some of the famous routes for trekking in Ladakh, India are:
Lamayuru (in Indus Valley) to Darcha (in Lahoul) - takes nearly three weeks
Markha Valley trek - takes nearly ten days
Lamayuru-Padum trek - takes nearly eleven days
Stok-Khangri round trek - takes nearly four to five days
Parts of the Ladakh range, lying between the Indus and Shayok valleys
Normally, the season for trekking tourism in Leh Ladakh is from early June to mid-October. However, the short treks within the central Indus valley can be undertaken in May also.