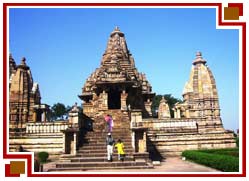 Madhya Pradesh emerged as an Indian state in the year 1956. During that period, the state also rose to prominence as the largest state in India. However, with the bifurcation of Chhattisgarh in 2000, the modern-day Madhya Pradesh came into being. Positioned in the geographic heart of the country, the state is a crucible that holds the amazing concoction of various religions and cultures of the country. The rich culture of Madhya Pradesh is the upshot of its enchanting history that traverses many a dynasties.
The origin of Madhya Pradesh dates back to the Paleolithic age, when men were primitive and dwelled in caves. Bhimbetka cave paintings of the state reiterate the fact. As far as chronicling is concerned, the history of Madhya Pradesh regresses to the time of emperor Ashoka. Chandra Gupta Maurya, grandfather of Prince Ashoka, established the Mauryan Empire (321 to 185 BCE) in Northern India, including the state of Madhya Pradesh. Mauryan Empire received a setback after Ashoka's death and subsequently ebbed away into oblivion.
With the culmination of the Mauryan Empire, Central India saw many contestations for imperial victory amongst the Kushanas, Sakas and other local dynasties, from 3rd to 1st century BC. Madhya Pradesh attained glory when it came under the Gupta dynasty in the 4th and 5th centuries. However, the Guptas collapsed with the attack of the White Huns, who were later defeated in 528, by King Yashodharman of Malwa. During this medieval period, the state also came under the sway of Rajputs, like the Paramaras and the Chandelas, and these rulers ascended it to new heights of prosperity and creativity.
Later, Gond kingdoms emerged in regions like Gondwana and Mahakoshal and Northern Madhya Pradesh came under the Muslim Delhi Sultanate in the 13th century. However, with the decline in power of Delhi Sultanate, the state saw the burgeoning of many independent regional kingdoms. Excluding Gondwana and Mahakoshal, the entire state became the imperial seat of the Mughal Kingdom. With the death of Mughal emperor Aurangzeb in 1707, it saw the emergence of the Marathas, who gained total command over the state, until their expansion impeded with the Third Battle of Panipat in 1761.
British dominion extended to Madhya Pradesh with the fall of Marathas and most of its regions became princely states of British India. However, after independence, it attained the true stature of an Indian state in 1956. The states of Madhya Bharat, Vindhya Pradesh and Bhopal were incorporated into the state and the southern region of Vidarbha was conceded to the Bombay state. It emerged as the largest state in India, with Bhopal as the capital. In November 2000, the present day Madhya Pradesh came into being, when the southeastern region of the state was carved out to form the new state of Chhattisgarh.