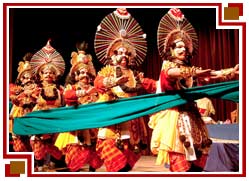 No other state in India, but Madhya Pradesh, enmeshes so many different flavors of tradition and culture. The state is a cauldron that incessantly concts the various aspects of its multi-dimensional culture and still upholds a beautifully amalgamated heritage that retains its distinctive zeal. It is home to people professing all the major religions of India, who dwell in perfect harmony and amity. Apart from them, numerous colorful tribes add on to the vibrant cultural collage of the state. In fact, variety finds manifestation in spectacular forms here.
The culture of Madhya Pradesh is a harmonious amalgamation of Hindus, Muslims, Buddhists, Jains, Christians and Sikhs. Moreover, the tribal communities of the state comprises of different tribes like Bhils, Gonds, Oraons, Kols, Bhilalas, Murias and Korkens, to name a few. These people belonging to numerous religions and ethnic backgrounds reflect the concept of Indian secularism and contribute to the animated cultural effervescence of the state. Go through this article and get a kaleidoscopic glimpse of the cultural heritage of Madhya Pradesh.
History
Madhya Pradesh emerged as an Indian state in the year 1956. During that period, the state also rose to prominence as the largest state in India. However, with the bifurcation of Chhattisgarh in 2000, the modern-day Madhya Pradesh came into being. Positioned in the geographic heart of the country, the state is a crucible that holds the amazing concion of various religions and cultures.
People
Madhya Pradesh is not only the geographic heart of India, but can also be termed as the cultural and religious nucleus of the country. The term 'diversity' gets best expression in the place. In fact, the people of the state provide the first glimpse towards its multi-faceted culture. It conjoins people, belonging to different religions, castes and communities.
Religions
Madhya Pradesh is a land that embraces all the major religions of India - Hinduism, Islam, Sikhism, Jainism, Buddhism and Christianity. Even though the state is a common abode of people belonging to numerous religions, castes and creeds, no internecine feuds exist amongst them. In fact, the state upholds 'Unity in Diversity', on which rests the entire concept of secularism in India.
Dances
The state of Madhya Pradesh can be termed as a cultural museum of India. The place not only unifies many religions in its lap, but is also home to some of the most prominent tribal communities of the country. These tribal and aborigines of Madhya Pradesh have contributed to the rich cultural saga of the place, intrinsically blending their indigenous cultures to its large melting pot.