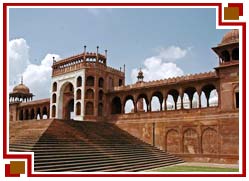 Bhopal, the capital city of Madhya Pradesh, interweaves the various aspects of Hindu and Muslim cultures. The place also exhibits the true coherence of northern and southern influences and emanates a bygone charm that has remained unsullied till date. Its old city, with its colorful bazaars and historical monuments, evokes the aristocratic stamp of the yore. One can notice the breadth of vision of these Begums in the exquisite mosques of old Bhopal. On the other hand, the new city, with large boulevards and modern buildings, poses an equally charming picture.
Originally, Bhopal was a Hindu state, founded and ruled by the famous Parmara king Raja Bhoj. Bearing to this legendary ruler, the place was named as 'Bhojpal' and later became 'Bhopal'. With the decline in the power of the Paramars, the state was pillaged many a times, and finally was lost in oblivion. However, an Afghan soldier called Dost Mohammad Khan laid out the city, as it stands today, after the death of the Mughal emperor Aurangzeb in 1707. The preponderance of Islamic art and architecture of Bhopal can be accredited to him. Islamic architectural ruins are still found at Islam Nagar of the city.
As aforesaid, Bhopal came under the sway of four Begums from 1819 to 1926. The governance by Begums led to many innovations and developments in the city. Its exquisite mosques and palaces still resonate with the Nawabi charm that the city experienced during the rule of the Begums. The Taj-ul Masjid, considered as one of the largest mosque in India, deserves special citation for its brilliant artwork and its prominence amongst all the historical monuments in the state. Moti Masjid and Jama Masjid are two other notable mosques of the place that display the artistic brilliance of the erstwhile rulers.
Though the old and new city of Bhopal are bipolar with their own singular charms, they nevertheless confluence to impart the place its exemplary beauty. From the Gulmohar studded broad boulevards to its labyrinthine alleys, you cannot miss the celestial quaintness that pervades the place. Visit the old bazaars that are inexhaustible storehouses of traditional handicrafts. They are very popular amongst the visitors for their beaded handiworks and high-quality fabrics. You can also stroll around the many placid lakes that dot the city. With a blessed landscape and its architectural razzmatazz, Bhopal merits a visitation among all the cities in Madhya Pradesh.