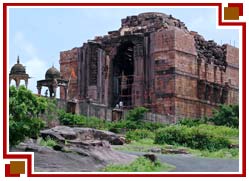 With numerous tourist attractions lacing the historical city of Bhopal, it is a place definitely worth visiting. 'The City of Lakes', as it is called, was a stronghold of many dynasties. Most noteworthy, is the reign of some prominent 'Begums' of history. The governance of these erstwhile female monarchs ushered in an era of architecture that saw the inculcation of Islamic elements to its monuments. These ancient testimonials still resonate with bygone charm and induce many tourists to travel to the place. Include some of the most exotic locales nearby Bhopal in your itinerary and you sure cannot resist traveling to the place. Obtain more information on tourist attractions near Bhopal, which can be incorporated on excursion trips from the place.
Bhimbetka Caves
The invaluable Indian treasures, in the form of Bhimbetka Caves, are surrounded by the craggy terrains of the Vindhya mountainous ranges. Located 46 km south of Bhopal, these Neolithic caves preserve prehistoric paintings and murals that are almost 12,000 years old. These ancient cave paintings vividly portray the lives and everyday activities of primitive cave dwellers and also exhibit their narrative skills. More than 200 caves form a part of this cave-sanctuary and enchant many visitors with their prehistoric significance.
Sanchi
Sanchi is perched on a secluded hill, 46 km from Bhopal. Its clusters of stupas, chaityas and monasteries make it one of the most significant visitations of tourists from all corner of the globe. These stupas, constructed within 3rd century BC and 12th century AD, bequeath the place with a lot of historical and religious importance. On Buddha Purnima, Buddhists congregate here to celebrate the triple anniversary of Gautama Buddha's birth, enlightenment and parinirvana.
Pachmarhi
Snuggled atop the Satpura Hills at 1,067 meters, the hill station of Pachmarhi is located about 195 km from Bhopal. Its serene backcloth, with emerald forest glades, jamun groves, cascading waterfalls, deep ravines and coppices of sal and bamboo, make it an ideal sanctuary for communing with the beauty of nature. The cave shelters in the Mahadeo Hills that house ancient rock paintings increase its popularity amongst tourists. A mountain ride to Pachmarhi is must, while you go for recreational trips around Bhopal.
Udaigiri
13 km from Sanchi and 5 km from Videsha is Udaigiri, famous for its rock-cut cave sanctuaries. There are many Hindu and Jain caves that run in succession here and impart the place its charm. You can find delicately carved images of Lord Vishnu here. It is believed that Buddhist monks used these caves as their abodes in 2 B.C. Built mainly during the reign of Chandragupta II, a visit to these ancient caverns, along with the Gupta temple perched on the summit of this hill, will help you understand the aesthetic dimensions of Gupta art and architecture.
Bhojpur
Bhojpur lies 28 km southeast of Bhopal and merits a visit. A brilliant example of Hindu temple architecture, the ancient 'Bhojeshwar Temple' was constructed in the later part of the 11th century and heightens the popularity of the place. A venerated shrine, the temple is dedicated to Lord Shiva and is referred to as the 'Somnath of the East'. It enshrines a massive 'lingam', about 2.3 m high and 5.3 m in circumference. This time-defying monument stands in an incomplete state, but poses an inspiring sight, with its titanic pillars and unfinished dome.