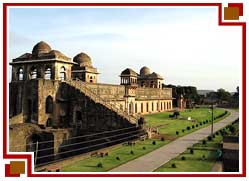 The tiny hilltop fort of Mandu, embraced by the majestic Vindhya mountainous ranges of Madhya Pradesh, is a parable of many historical legends. Perched atop a height of 2000 ft, the picturesque place seems like a scene straight out of a fairy tale, especially with its pastel colored monuments studded in the emerald green landscape. Its rich historical saga that still looms over its architectural gems, bestows Mandavgarh with an enigmatic appeal. A place that celebrates the various aspects of joy, love and beauty, this sleepy town still chimes with a regal charm of the bygone era.
Mandu was originally the capital of the Parmar rulers of Malwa. However, towards the end of the 13th century, it came under the regime of the Sultans of Malwa. During this period, the place came to be known as 'Shadiabad', which means 'City of Joy'. In fact, Mandu saw the naissance and culmination of many ruling clans, who made it a beautiful montage of architectural specimens. It was also a monsoon retreat of the Mughals, whose lavishness and love for extravagance led to the fabrication of many pleasure palaces and lakes. The Jahaz Mahal and the Hindola Mahal are a few of the many examples.
Apart from its architectural grandeur, Mandu also has many historical tales to trade with its tourists. Till date, Mandu resonates with the eternal love story of the poet-prince Baz Bahadur and his beautiful wife Rani Roopmati. The balladeers and minstrels still sing about these legendary lovers whose romance has adorned the pages of history. The intriguing monuments, in the form of the Baz Bahadur's Palace and the Rupmati's Pavilion, makes these royal lovers come alive from the eon to the present. Thus, the place becomes ideal for couples who escape to hills to rekindle the candles of their romantic life.
During monsoons, when drizzle kisses Mandu with a new vigor, it blooms with a renewed freshness. The furrowed greenery & majestic monuments conspire to transport tourists to a dreamland that is not known in any other place. Especially the water bodies, comprising of lakes, streams, torrents, rivulets, baolis and talaos, bustle and get enliven with the showers. Thus, the grandiose monuments that are gently encased in the generosity of nature make the place a celebrated holidaying destination. The beauty of Mandu can be succinctly explicated in the following lines by Jehangir "I know of no other place that is as pleasant in climate and with such attractive scenery as Mandu in the rainy season."