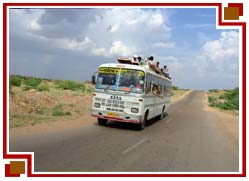 A hilltop fort located in the state of Madhya Pradesh, Mandu is an exemplary place depicting the eternal love of Baz Bahadur, the last independent king of Malwa, for his wife Rani Roopmati. A place overpowered with the mystical charm of joy and romance, the city was also an erstwhile capital of the Sultanate of Malwa. With its huge collection of historical monuments, it is a much-favored tourist destination of Central India. Get an idea of how to reach Mandu by exploring the various communication options available for traveling to this magical place.
By Air
The nearest airport from Mandu is the 'Ahilyabai Holkar Airport' of Indore, located 99km away. Major airlines like Air Deccan, Jet Airways, Air Sahara, Go Air, Alliance Air, SpiceJet, Kingfisher Airlines and Indian Airlines connect Indore to places like Delhi, Mumbai, Pune, Jaipur, Hyderabad, Chennai, Bangalore, Bhopal, Ahmedabad, Goa, Nagpur, Ranchi, Raipur, Patna, Vizag and Kolkata. One can arrive at Indore by air and then board a bus or taxi for reaching Mandu.
By Rail
The nearest railhead is located at Ratlam, 124 km from Mandu. Ratlam station is an important junction and division of the Western railways and falls on the Delhi-Mumbai rail route. It is situated 653 km from Mumbai Central, 731 km from Delhi, 176 km from Indore BG and 119 km from Indore MG route. Various trains shuttle between Ratlam and the key cities of India. Tourists willing to travel to Mandu by train can get down at the Ratlam station and avail bus/ taxi to reach the place.
By Road
The roadways that link Mandu to other places in Madhya Pradesh are motorable and well-connected. Buses ply between Mandu, Indore, Dhar, Ratlam, Ujjain and Bhopal. There are also direct and regular buses available from places like Indore (via Dhar) and Bhopal. Various state-operated buses shuttle between these places. You can also consult travel agents and board a private bus or avail a private taxi to reach Mandu.