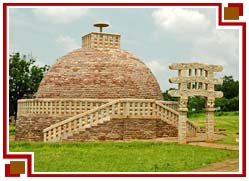 The stupa-laden town of Sanchi, located in the Raisen district of Madhya Pradesh, takes one on an enchanting journey of the most flourishing periods of Buddhist art and architecture in India. The whole place brims with preserved vestiges of Buddhist architectural legerdemain, from the 3rd century BC to the 12th century AD. Due to their beauty preserved across centuries, the historical monuments of Sanchi find incorporation in the World Heritage Sites enlistment. The most significant of all these monuments is the Great Sanchi Stupa.
Generally, stupas are large hemispherical domes with a central chamber, used for interring the holy relics of the Buddha. Thus, the Great Sanchi Stupa, or Stupa Number One, also serves as a chasse or a monstrance. Built by Emperor Ashoka, in 3rd century BC, the nub of the stupa is a hemispherical dome of brick, built over the sacred relics of the Buddha and sheltered by a parasol. Sungas sabotaged this beautiful stupa during the 2nd century BC, only to refurbish it during the later years of their regime.
During the Sunga rule, the stupa was enlarged to twice its original size. Three parasols, within a railing, decked its top, like a dazzling tiara. The three-tiered structure formed the symbol of the Dharma, or the Wheel of Law. Beautiful stones festooned its facades. In addition, railings, staircase and a harmika were also added to the structure. Later, during the Satavahana period, the stupa was further beautified, with carved gateways (toranas) and ornamental balustrades displaying various motifs. Today, the railings girdle a path for circumambulation around the stupa, with four gates facing each direction.
Nevertheless, the most distinguished feature of the Stupa is the way Lord Buddha finds representation here. Instead of an image, he has been represented by various symbols like footprints, wheels, thrones etc. Moreover, the four gateways that flank the stupa contain elaborate depiction of various incidents from the life of the Buddha. They also delineate his previous incarnations as mentioned in the Jataka tales. Due to its historical, architectural and religious importance, this Great Sanchi Stupa is today acclaimed as one of the best Buddhist stupas found across India.