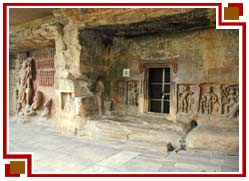 The spurts of creative outpourings of the Guptas were legendary and served as the hallmark of the dynasty. If you want to have a rich glimpse of architectural legerdemain of the Guptas, just check out the Udaigiri Caves of Madhya Pradesh. 13 km from the stupa-crowned hillock of Sanchi and 4 km from the town of Vidisha, are a group of 20 rock-cut Gupta cave shrines believed to be the abodes of Buddhist monks in 2nd century BC. Sculpted into a sandstone hill, they truly beautify the landscape of the place.
According to an inscription etched on one of these caves, they trace their origin to the imperial rule of Chandragupta II (382-401 AD). If we go by this fact, we can predict their existence to 4th -5th century AD. These cave sanctuaries comprises of both Hindu and Jain caves that run in sequence, one after the other. Two of these are Jain caves and the rest are all Hindu caves. They evoke pictures of Gupta regime and possess all the archetypal characteristics that gave Gupta art its unique vitality and fervor.
The aesthetic way of expressing art and enlivening monuments with inventive designs by the Guptas, deeply resonate in these structures. Skillfully molded capitals and the inimitable treatment of inter-columniation define the traits of their artistic manifestation. Moreover, the beautifully adorned entranceway and richly carved facades and doorways of the caverns are one of the best representations of art in India. The caves are also assigned numbers, probably listing the sequence in which they were excavated.
Cave 1, the Rani Gumpha or 'Queen's Cave', is around the corner. The pillars, arches and the rear of the courtyard, on the lower level, exhibit beautiful sculptures. On the back wall of the upper story, one can also see a decorative frieze that shows animals and other communal scenes. Caves 3 and 4 are double-storied and contain sculptures of a lion ensnaring a prey, elephants with snakes swathed around them and pillars emblazoned with many mythical-looking winged animals.
Apart from these festooning, one can also notice impressive carvings of Lord Vishnu here. These strictures invest the place with spirituality. Cave 5 has an elaborate image of Vishnu in his boar incarnation, with a frieze of Gods decked above. Cave 20 has Jain carvings and Cave 9 has pillars in its hall. Besides, the ruins of the 6th century Gupta temple, perched atop the summit of a hill, highlight the antiquity of the place. While on a trip to Ujjain, make sure that you visit these stupendous caves at Udaigiri, to witness true art from close quarters.