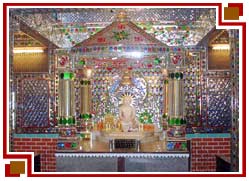 Indore is the largest city in the Malwa region of Central India and the cosmopolitan capital of the state of Madhya Pradesh. Elevated at an average height of 553m, Indore is sited on the banks of two small rivulets - the Saraswati and the Khan. They conjoin at the heart of the city, where an 18th century temple of 'Sangamnath' or 'Indreshwar' is located. In fact, the place borrows its name from the presiding deity (Indreshwar) of this temple only. 'Indrapur' of yore, the name got colloquially shortened to Indore later.
Indore is today an important business and commercial centre of Madhya Pradesh. Prestigious educational institutions and key industries of the country are sited in the city. This gives unmatched urban trappings to the place and provides it with a strong grip as far as the economy of Madhya Pradesh is concerned. The textile mills of Indore boast of a global presence and the city is considered a leading name in the field of software industries. It also claims a position of pride as the one of the best shopping destinations of India.
Apart from its vibrant industrial activities, in the form of corporate expansion and trade excellence, Indore remains inextricably linked to its glorious past. Imperial stronghold of the Holkar dynasty still pervades its architectural exhibits. Inventive architectural relics dot its landscape and unravel the affluent lifestyle of the Holkars. In fact, Indore was the brainchild of the famous Holkar queen, Rani Ahilya Bai Holkar. The British usurped it during the colonial era and the city remained under the British regime until India gained independence in 1947.
With its rich historical tales and its contemporary pace, Indore remains a landmark city of Madhya Pradesh. This makes it a haven for visitors who come here to savor the multitude of delights. Besides its visual extravagance, the city also continues to lure visitors with its delectable platters. Its huge culinary range has earned it the appellation of 'Food City' of India. Sweets and namkeens of Indore, including 'Daal Bafle' and 'Poha Jalebi', are famous amongst the gastronomes all over the country. The city, in fact, remains a must-visit for people who want to indulge in a sweeping and sensual holidaying experience.