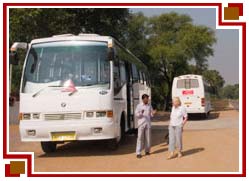 Indore is the largest city in the Malwa region of Central India and also the cosmopolitan capital of the state of Madhya Pradesh. An erstwhile summer capital of the former state of Madhya Bharat, before it was taken into Madhya Pradesh, today Indore is one of the most urbanized cities in the entire state. From its monuments to gastronomical delights; the place has been luring visitors since ages. If you are wondering how to reach the place, just go through this article. It will provide information about the various options of reaching/ traveling to Indore.
By Air
Indore has an airport of its own, which makes possible reaching the city directly by airways. Situated 8km to the southeast of the main city center, 'Devi Ahilyabai Holkar Airport' has various flights that connect it to major air destinations in India. Key airlines like Air Sahara, Jet Airways, JetLite, Kingfisher Airlines, Deccan Aviation, GoAir, SpiceJet, Indian Airlines and Alliance Air operate in the Indore airport and link it to places like Delhi, Mumbai, Pune, Bangalore, Chennai, Hyderabad, Ahmedabad, Goa, Kolkata, Nagpur, Jaipur, Bhopal, etc.
By Rail
Indore railway network is a sub-division of Ratlam Division of the Western Railways and connects it with other railway junctions in India, by both meter and broad gauge railway tracks. Direct trains are available for places like Mumbai, Delhi, Kolkata, Chennai, Trivandrum, Ahmedabad, Pune, Jammu, Jaipur, Lucknow, Bhopal, Nagpur, Patna and other major towns. The Indore junction is the chief railway station in the city. There are four other small stations viz. Rajendra Nagar, Lokmanya Nagar, Saifee Nagar and Lakshmibai Nagar that facilitates short distance rail services to nearby towns and villages.
By Road
Different national and state highways connect Indore to places in and around Madhya Pradesh. Some major highways pass through the city and makes road transport to Indore pretty easy. Agra-Bombay National Highway (NH3) and the NH59 are important highways. Itarsi and Bhopal are connected to Indore by a state highway. Khandwa Toll Road connects the city to the Khandwa town. In the north-west, the city is connected to Ujjain via the Ujjain Road. Public and private bus services are easily available for reaching Indore. Bhopal, Barwani, Khandwa, Ujjain, Dewas, Shajapur, Dhar, Ratlam, Khargoan, Jhabua and Agar are some prominent destinations that are well connected to Indore by road.