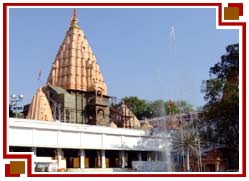 Ujjain is a historic city of Central India, located in the Malwa region of Madhya Pradesh. Bounded by the holy waters of the Shipra River, it is considered as one of the seven major sites of Hindu pilgrimage. As cited in the Mahabharata, Ujjain was the erstwhile capital of Avanti Kingdom and was earlier known as 'Avanti' and 'Avantikapuri'. Legends have it that it was renamed as 'Ujjayini' (one who conquers with pride) by Lord Shiva, after he vanquished the demon ruler of Tripuri. It was later abridged to 'Ujjain'. The religious and historical significance of the place greatly boosts its travel and tourism.
The sanctified aura of Ujjain can be traced back to the Hindu mythological tale of the churning of ocean by the Gods and the Demons. It was believed that during this spiritual tussle, a few drops of nectar fell on each of the four places viz. Haridwar, Prayag, Nashik and Ujjain. Hence, Ujjain and the Shipra River are considered to be holy since times immemorial. This episode also led to the birth of the 'Maha Kumbh Mela', which is celebrated in each of the aforesaid places after every twelve years. The spiritual revelries of the 'Maha Kumbh Mela' stand out amongst all the religious celebrations in India.
The legendary place of Ujjain was under the governance of many dynasties. It proudly brackets together its name with noted figures like Kalidasa, Vikramaditya, Ashoka, Varahamihira, Brahmagupta and the like. Today, the place is hemmed with many prominent religious places, steeped in historical significance. One of the 12 'jyotirlingas' in India is enshrined in its 'Mahakaleshwar Temple'. Moreover, the 'Bade Ganeshji ka Mandir' houses the only 'panchmukhi' (five-faced) idol of Hanuman. In addition to that, Harsiddhi Temple of Ujjain is considered as one of the most important 'Shaktipeeths' of India.
This primeval city was also famous due to its galloping strides taken in the field of astronomy in ancient times. The observatory (Veda Shala) in Ujjain, built by Raja Jai Singh, is a notable example of the same. Ujjain was also the first meridian of longitude in Hindu geography from the 4th century BC. Thus, it highly contributes to the richness of the country's mysticism and historical significance. Today, it is a major religious center and its spiritual wealth can even be equated to places like Banaras, Gaya and Kanchi. A major seat of various religions, sects and cults, Ujjain is undoubtedly a sacred mosaic of divinity and purity.