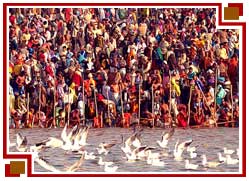 Kumbh Mela is the largest religious congregational fair of the Hindus and has known celebration from many centuries. This pilgrimage is observed four times every twelve years, at each of these four places - Prayag, Ujjain, Haridwar and Nashik. The celebration of Kumbh Mela sees the convergence of millions of devotees, shamans, monks and religious saints across India, making the festival the largest of all Hindu fairs. According to astrologers, Kumbh Mela takes place when the planet Jupiter enters Aquarius and the Sun enters Aries.
However, the mythical legends associated with Kumbh Mela dates back to the Vedic Period. According to Vedic scriptures, the Kumbh Mela was the outcome of a grueling fight that took place between the demigods and the demons. The observance of this religious fair can be ascribed to the following story - Once upon a time, the demigods and the demons gathered together on the shore of the milk ocean, which lies somewhere in the cosmos. They made an agreement that they would churn the ocean to produce the nectar of immortality and later share it among themselves.
They used the Mandara Mountain as a churning rod and Vasuki (the king of serpents) as the rope for churning. The demigods and demons churned the ocean for about 1,000 years. However, when a pot of nectar evolved from the ocean bed, the demigod ran away with it and hid it in four places on the Earth - Prayag, Hardwar, Ujjain, and Nashik. Vicious fighting between the demons and demigods ensued and a drop of nectar fell on each of these places, thus investing these places with mythical powers. Therefore, the Kumbh Mela, which in translates to 'Festival of the Pot', was actually born out of this age-old mystical tale involving demons and demigods.