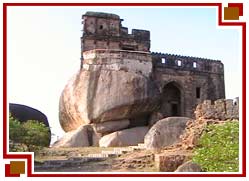 Located in the heart of India, Jabalpur is bathed by the holy river Narmada on three sides. Narmada valley, with its jutting marble rocks, makes the city a paradise for archaeologists and geologists. There are earthen outcroppings that dot the landscape, in the form of its many rocky hummocks. Thus, Jabalpur is also famous as the 'City of Rocks'. It is believed that the city derives its name from an Arabic word 'Jabal', which means 'mountain'. This signifies the jagged landscape of the place and brings to notice its trade connection with Arab countries, during the Middle Ages.
According to local fables and lore, Jabalpur was the 'tapasya bhumi' (meditation centre) of a mythological sage known as 'Jabalie', from whom the name Jabalpur is derived. The name of the place even finds a mention in the ancient epics like Mahabharata, highlighting its antiquity. Endowed with mythology, the city also has a lot of historical significance, as it was the pleasure resort and capital of the erstwhile Gond Kings, during the 12th century. It later served as the imperial seat of the Kalchuri dynasty also. Marathas ruled Jabalpur, from whom the British appropriated the place during the colonial empire.
This rich chronicling of the history of Jabalpur is noticeable in numerous Gond forts, monuments and temples, hemmed in different parts of the city. The British sway over the place also manifests in the form of the large cantonment in Jabalpur, with its barracks and colonial residences. All these historical treasures form major tourist attractions of the place. Today, the city is deemed as an important administrative and educative centre of Madhya Pradesh and is one of the most developed cities of the state. Urban bits and pieces, skillfully interspersed with its scenic extravaganza, lend Jabalpur its matchless beauty.
With its idyllic landscape, that displays rugged mounds, green suburbs, tranquil lakes and historical edifices, Jabalpur hypnotizes many tourists round the year. One can forever watch the sunrays hitting the mounds of marbles, as they dapple Narmada with their brilliant shadows. The popularity of the place also owes to its positioning as an important stopover for jaunting to the nearby exotic realms of Madhya Pradesh. Important wildlife sanctuaries are easily accessible from the city, which allures many wildlife enthusiasts. In fact, a visit to the place is a memorable sojourn for all those who appreciate the unruffled facets of nature.